I've said it before, and I'll say it again: photographing cycling, and specifically bike racing, is pretty challenging. However, for the amateur photographer who relishes the challenge, bike racing has a lot to recommend it. How many other sports, even at the elite level, are completely free to watch and allow you to get within touching distance of the racers? (I shouldn't need to say this, but though you can get that close, you should give them a bit more space).
Of course, there are many running events which are also free and open – road, cross-country and fell running all included – but, with all due respect, they are a lot slower. The world record time for a marathon (2.03.38) is an average speed of 20.46km/h. There's no exact equivalent in cycling, but the British competition record for 25 miles (45.54) equals 52.59km/h; that for 50 miles (1.35.27) equals 50.23km/h. We can see a similar pattern across a range of distances: cyclists are around 2 1/2 times faster, with the advantage tending to increase at longer distances.
Throw in a few hills and the picture changes: the steeper it gets, going up, the slimmer the advantage the bike has, but on the way down bikes outstrip runners by a huge margin, with speeds in excess of 100km/h readily attainable in favourable conditions. I'm a pretty ordinary rider, but I've been close to that myself.
The point of all this is that the combination of high speed and potentially close shooting distances can be a challenge to both camera and photographer, but also creates the potential for really dynamic and involving images.
And so to the Tour of Britain. As soon as the route for the 2013 race was announced, I knew I wanted to be at Stage 3. First, it was to be an individual time-trial, which meant that the 100-odd riders would be passing one-by-one, and riding flat-out; in a 'normal' road-race stage they may whizz past in one compact group in a few seconds. There was an extra frisson because the distance was to be 10 miles (16km); one of the classic distances over which British time-triallists race regularly. I've ridden dozens of them myself. And finally, the venue was to be Knowsley, within fairly easy reach. The date went into my diary right away.
Picking the spot
I had no commission for this shoot and certainly wasn't an accredited photographer (the ones you see on the back of motorbikes in the road-race stages). I decided to pick a spot on an open section of the course, where the crowd probably would be light, so I wouldn't be jostling with other people and would have relatively uncluttered backgrounds for my shots. I checked the course out on Google Street View and picked a point on Knowsley Lane, about a third of the way into the race. As it turned out, the weather on the day was pretty poor, especially for the earlier starters in the race, and this kept the crowds down even more.
Of course, rain also poses a few extra problems for photographers. I wasn't too worried about my Nikon cameras and lenses as they have good weather-sealing, but was a bit reluctant to haul out my flashguns as water and high-voltage don't mix. Fortunately the rain eased off as the day went on (although it never completely stopped, and the roads remained wet) and I had a chance to try out my recently acquired Phottix Odin remote flash system. But we'll come to that.
Head-on
I used two main shooting strategies, both tried and tested. The first was using a relatively long lens for some more-or-less head-on shots. For these I used my Nikon D7000 and Nikkor 70–200 f/4 lens, mostly at the 200mm end of its range. The crop factor of the DX format D7000 means this is like using a 300mm lens on a full-frame camera (or a 35mm SLR, if you're old enough to remember!) and I never really felt the need for anything longer. I left the lens wide open at f/4. Because I wanted to use a high shutter speed and the light wasn't great, I set the ISO to 800 and this allowed me to use 1/800 or 1/1000 sec. This is fast enough to give a sharp image of a rider heading towards the camera but probably wouldn't be quite fast enough for a side-on shot. Remember, these guys would be doing 50+ km/hr and passing pretty close.
Focusing is pretty critical with shots like these as depth of field is minimal. A time-honoured technique is to pre-focus on a spot in the road and shoot as the rider reaches it. This would have been slightly tricky on this occasion as the roads were closed and riders could be riding anywhere across the width of the road. I opted for autofocus, partly to give this camera/lens combination a good test. Continuous AF with 3D focus tracking worked pretty well. This image of Peter Hawkins (Team IG Sigma Sport) was actually one of the first I took and ended up as one of my favourites, one reason that he was among the minority of riders not wearing glasses or a visor and therefore his facial expression is that bit clearer.
I also really like this shot of Christopher Jones of (UnitedHealthcare) – again the facial expression is great and this time the angle is slightly oblique and we've 'lost' the following car – although there is a lamp-post directly behind him, which detracts slightly. I was concentrating entirely on keeping him in frame and didn't notice the post at all as I pressed the shutter.
Pan flat
For variety, I also took some panning shots. These were all done with my Nikon D600 and Nikkor 24–85mm lens. As I've said, riders might be passing almost anywhere within the width the (two-lane) road and 24mm was wide enough to take in a rider on the near side, while 85mm gave a reasonably frame-filling image if they chose to use the opposite gutter. The photo of Marcin Bialoblocki (in blue) was shot at 24mm, while the one of Gerald Ciolek (wearing gold as race leader) is an 85mm shot, uncropped.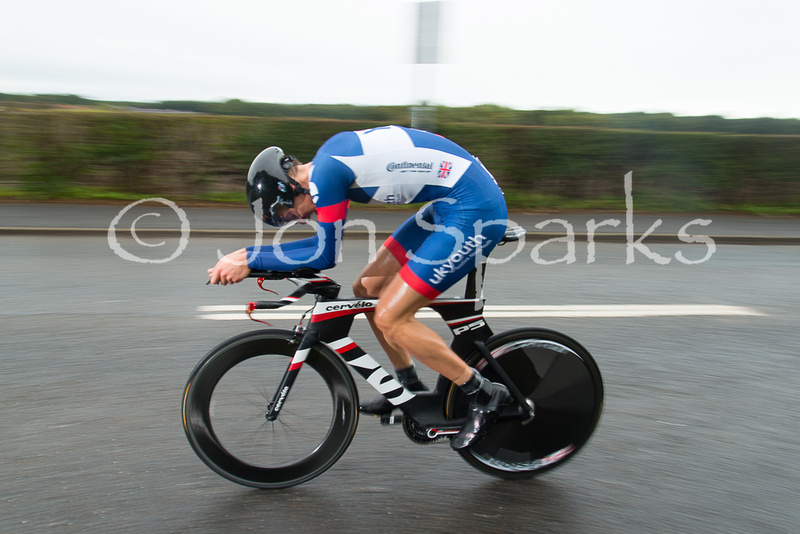 If you look at the Bialoblocki shot, it's obvious he was less than three metres from me. In that situation it's not easy even to keep a rider centred in the frame; the panning movement is really fast. It was much easier with riders like Ciolek on the far side of the road; the extra distance makes the panning movement a more controllable swing. I did switch sides several times but there was no way to predict which side any given rider would choose. This is one aspect that's generally easier when shooting regular domestic time trials; the roads aren't closed so riders will always be well to the left.
Flash tracks
Shutter speed for all these shots was either 1/100 or 1/125 sec. I've experimented with slower speeds for panning shots as it increases the background blur, but image of the rider is not so consistently sharp.
For the later batches of panning shots I also used remote flash: a Nikon SB-700 on a tripod at the side of the road. This helps to sharpen the image of the rider as well as adding a bit of lift on such a dull day. As I've mentioned, I triggered it using the Phottix Odin system. This is not only a bit cheaper than the better-known Pocket Wizard but seems to be simpler to use. In the past I've often triggered remote flash(es) using the camera's own flash as the master unit, but using a radio trigger increases the range and makes the system more flexible as you don't have to worry so much about line of sight between camera and remote flash.
Anyway, on this first 'for real' outing, the system worked perfectly. The strength of the flash does vary with distance but working with co-operative riders or in a situation where the line they take is more predictable this would not be a problem. The flash is in evidence in the shot, but I think you can see it more clearly in this shot of Omega Pharma Quick-Step's Martin Velits. Still, it doesn't overwhelm the natural light; I'm not keen on shots which shout 'REMOTE FLASH' as the first thing you notice.
Here's one more shot to finish off – after all, I could hardly fail to include stage winner (and overall race leader as I write this) Bradley Wiggins.