My blog posts are like buses; you wait ages and then two come along almost together. I've got ideas for another one, too, but I'm making no promises. A lot depends on exactly when the Nikon D5300 turns up as I'll then be throwing myself into work on its Expanded Guide. And then I'll let you know what I think of the camera…
Meanwhile, following up on my recent post about shooting the time trial at the Tour of Britain, here are a few thoughts about another branch of bike racing – and one that I heartily recommend as a great spectator event and one that any keen action photographer should find rewarding. I'm talking here about cyclocross.
A longish lens enabled me to shoot this section of the course even while I was standing alongside a completely different part of the lap.
(Broughton Hall, 2013)
Nikon D600, focal length 120mm (180mm equivalent), ISO 1000, 1/1600 sec, f/4
Cyclocross (often abbreviated to 'cross) may seem a tad obscure. That's not the case in Belgium or Holland, where it's hugely popular, and it seems to be big in North America too. Over here I'd bet most people have never seen a cyclocross race either in the flesh or on TV, but there are far more of them than you might think (see a calendar of events here), most are free to spectators and they have a special, friendly atmosphere that isn't so obvious at, say, a big road-race.
For those who don't know, 'cross racing is traditionally what road riders (some of them anyway) do in the winter to stay fit and sharp. As befits a winter sport, races are normally short, rarely more than an hour long and are run off over short circuits, often in local parks or country parks, where you can see much of the action from one spot. Riders start in a bunch but, unlike road-races, they don't generally stay grouped for long and usually are soon spread out around the course, with back-markers often being lapped by the faster riders. While individual races are short, there may be several races on a single afternoon (e.g. children, juniors, seniors, veterans) and men and women often race together.
It's all in the expression. At the top of an off-the-bike climb, speeds were low, but it was under trees and light was also on the low side;
I needed a high ISO and noticed that the AF occasionally lost target. (Broughton Hall, 2013)
Nikon D7000, focal length 200mm (300mm equivalent), ISO 1600, 1/200 sec, f/5
Cyclocross bikes look superficially like road bikes, with slightly modified geometry and fatter, knobbly tyres. In local races you may also seem some people competing on mountain bikes. On every lap the rules require there to be some obstacle that forces riders to dismount – usually it's a couple of low barriers. One of the skills of 'cross racers is the ability to dismount, hurdle the barriers with the bike and remount as quickly as possible. Steep climbs, especially when muddy, may also force most or all riders off their bikes.
For the photographer this translates into abundant opportunities. By the mid-way point of a race you may have a steady stream of riders passing a given point on the circuit so there are lots of chances to capture individuals. There's something essentially eccentric about 'cross racing too – either it brings out the character in people, or it just brings out the 'characters'. There can be plenty of (mostly harmless) spills and on occasions it can be wonderfully muddy too. Many riders will have two bikes, changing every lap so a helper can clean off one bike while they ride the other one. The pits and the bike-changes can also furnish shooting opportunities.
Out in the open, in better light, faster shutter-speeds were possible, and greater rider speeds made them essential. (Broughton Hall, 2013)
Nikon D7000, focal length 200mm (300mm equivalent), ISO 800, 1/1000 sec, f/7.1
Technically, it may seem easier to shoot 'cross than road-racing as the speeds are considerably lower – especially on climbs – but set against this the fact that it mostly takes place on winter afternoons and you may often be dealing with considerably lower light levels.
Actually I've been pretty lucky with the weather in my experience of shooting cyclocross – so far! I've reached the point where I'd actually welcome some wet and muddy conditions next time to add that extra dimension to the shots.
Pretty much a textbook panning shot: a high aperture and low ISO allowed a slow shutter-speed.
Fill-in flash helps keep the rider sharp too. (Broughton Hall, 2012)
Nikon D600, focal length 50mm, ISO 200, 1/50 sec, f/16
So far I've shot at three 'cross events, all part of the Rapha Super Cross series – at Brockhole on the shores of Windermere in 2011 and at Broughton Hall near Skipton in 2012 and 2013 – just last Saturday, in fact. If you're reading this blog within a few days of posting, the final round of the Rapha 2013 series is at London's Alexandra Palace next Sunday (27/10/13). But if you've missed it, don't despair; there are plenty more events through the winter. Top events include the National Trophy Series, Regional Championships, and of course the National Championships, which are in Derby on the 11th/12th of January.
I don't want to get bogged down in photographic technicalities, but there's a bit of background in the picture captions. A few basic pointers:
1: It's winter and the light may be poor: take a camera that gives good results even at higher ISO ratings. This usually means an SLR or mirrorless, or a large-sensor compact.
2: Although speeds are lower than road-racing (or downhill mountain biking) they can still be high in places, and you can be shooting really close to the action. A lot of mirrorless cameras will be challenged by this, and I don't know any compact that will cope. You can always try pre-focusing – even with my DSLRs I've used this technique for some shots. It's great at fixed points like the barriers and works well for panning shots too.
3: Flash is good to help sharpen up your results, add fill-light in tricky conditions. But built-in flashes are weak and the light isn't very pretty. A separate flashgun is better and one that you can take off-camera gives you a whole host of extra options. With some SLRs you can trigger and control remote flash using the camera's own built-in flash. I've done this with good results in the past, though I'm now using a Phottix Odin remote flash system.
Using the widest lens I had with me, on a full-frame camera, gave a different view.
A low viewpoint meant the riders stood out against the sky. Fill-in flash. (Broughton Hall, 2012)
Nikon D600, focal length 14mm, ISO 200, 1/800 sec, f/5.6
And general advice – the weather may be challenging, and indeed some of the best photos may come in difficult conditions, but remember to look after both yourself (warm clothes, wellies or hiking boots, waterproofs if necessary) and the camera (some sort of rain protection, spare battery).
Cyclocross is out there – get out too, and enjoy it.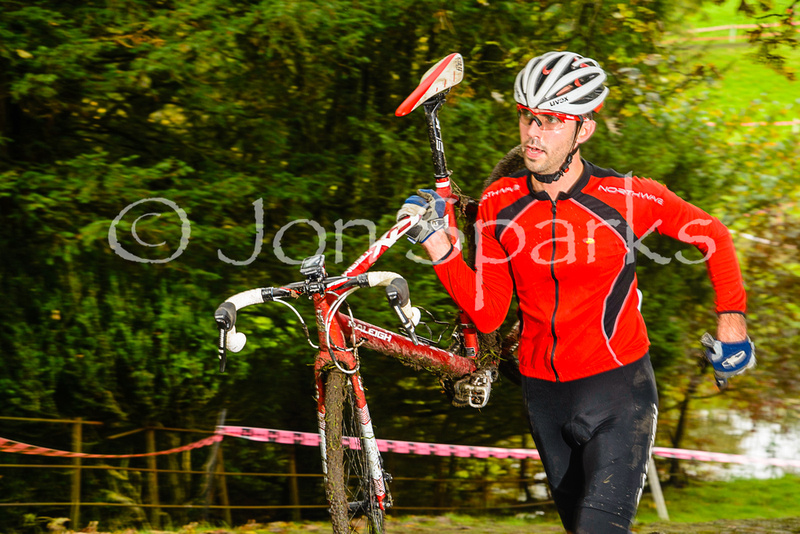 Under the trees, I used a remote flash, off to the right of the shot, to add light and crispness.(Broughton Hall, 2013)
Nikon D600, focal length 85mm, ISO 800, 1/125 sec, f/6.3
After struggling with AF here, I found it better to prefocus the barrier shots – after all, I knew where I wanted the riders to be when I took the shot. Again I was using remote flash, on a tripod on the right. And again, a low viewpoint helped – who cares about muddy knees? (Broughton Hall, 2013)
Nikon D7000, focal length 31mm (cropped), ISO 250, 1/259 sec, f/9
Something different: the Rapha Super Cross events include a fun race, a feature of which is the 'Tequila shortcut'. (Broughton Hall, 2013)
Nikon D7000, focal length 175mm (263mm equivalent), ISO 640, 1/500 sec, f/5.6